Madra Nua - Dog Grooming Prices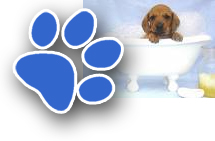 These prices are Approximate prices as every dog differs from the next, Please dont hesitate to call us to discuss your dogs needs and get a more accurate price:

Gift Vouchers Available
Gift Vouchers are now available to buy. The perfect gift for any dog owner! (Gift vouchers are available in all denominations.)

Full Grooming: Includes, Dematting, Brush out, Pads, Ears, Nails, Cut, Wash, Dry and 2nd Cut with styling.
Toy / Small dog €30 - €40
Medium dog €45 - €55
Large Dog €60 - €120


Wash Only: Includes, Dematting, Brush out, Pads, Wash and Dry.
Toy / Small dog €15 - €20
Medium dog €20 - €25
Large Dog €30 - €60

Nails: €5
Ears plucked and cleaned: €5

Easy Pay Options
Easy Pay option now available! If you have a few extra Euros some weeks and would like to pay into an account with us, It can be taken off your bill at your dogs next visit. :-)

Puppies
We offer an introductory groom for puppies under 6 months old, It will include a full brush, wash, trim, nail care and ear care. It will cost between €25 - €45 depending on size, breed and condition.