About Madra Nua - Dog Grooming
Ken has qualified with top marks from an intensive one on one training course with James Gilson of All Dog Grooming, who has over 20 years experience as both a groomer and trainer.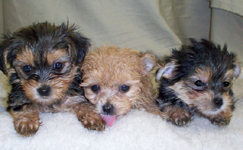 Every dog, regardless of size, breed, age or coat type, needs to be groomed on a regular basis. All dogs at Madra Nua Dog Grooming are bathed, groomed and styled to the highest standard, leaving your pet looking and feeling fantastic. Explains Ken.

Ken is always on hand to offer useful advice on pet maintenance. He will offer suggestions on the best ways you can groom your dog at home in between visits and advise on diet and nutrition for your pet.
Ken strives to ensure that a visit to the salon is a treat for the dogs and a place your pet will be excited and happy to return to.

There are many reasons to have your pet groomed, it not only makes them look good, but also helps to improve his or her physiological and psychological health.
Each breed has a different type of coat, each requiring different degrees of care. As such, your dog's coat must be groomed not only for aesthetic reasons, but more importantly for health reasons.
Having your dog groomed regularly is an excellent way of making you the owner aware of any health problems that may occur.


Nail care is another important factor of your pets grooming, nails should be trimmed regularly to avoid ingrown nails which can result in serious pain and internal infection.
Ear care is a very important factor of dog grooming. Ear infections can not only be painful, but lead to permanent hearing loss. The signs of a problem with your dogs ears include redness around the inside of the ear, scratching of the ear, head shaking and odour from the ear
Ear and Nail care is two of the many standard-grooming elements carried out by Madra Nua. Feel free to book your family pet in today to get the highest grooming service available from our trained staff at a very competitive price.